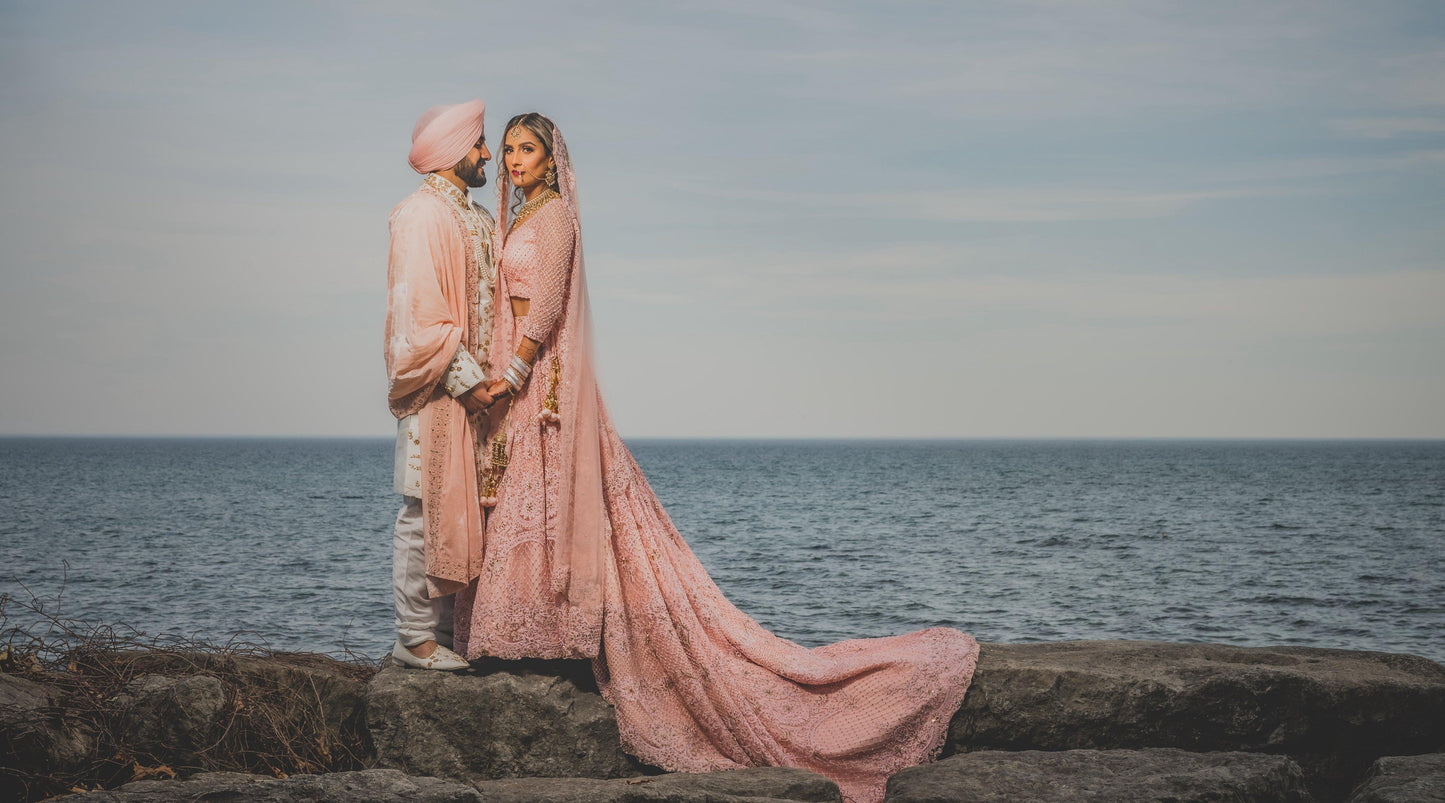 The Diary of a Covid Bride
In the midst of the cancelling, postponing, altering and impromptu wedding plans, many couples have endured the anxiety of ever-changing plans, the emotional roller coaster ride of uncertainty and the settling of wants for needs. Our brides have turned to us for support, and that is why it has been so vital for us here at Banglez to show immense flexibility while following covid protocols and go above and beyond for our customers during difficult times. Yet, through it all, like us, many have seen some unexpected silver linings emerge.
In a conversation with Banglez bride Ravneet Bajwa, she shared her insights on the ups and downs of having a wedding during covid and how she got through it.
1) Tell us about your love story?
We met when we were 18 at a mutual friend's party. We were both in our second year of university in different cities. Brandon had messaged me on Instagram to go on our first date, which is when we instantly connected. Not long after, I had introduced him to my family as we knew this was the real deal, and it's been history ever since

2) How long did it take you to plan your wedding pre-covid, and what approach do you feel helped?
Pre-covid, our wedding was meant to be in the Dominican, and it was a relatively easy process as we were also working with an external wedding planning company. The approach I felt was the best was setting deadlines and being organized. From decor to event space and outfits – being organized and planning with a deadline in mind was always crucial.

3) What kind of changes did you have to make to your wedding, COVID-19? Which ones were challenging and which were appreciated?
Due to the pandemic, we have to move our wedding locally and drastically cut down the guest list and the events. From spending 1+ years to plan my dream wedding, we had less than 3 months to plan everything locally. The most challenging aspect of having a large family was the pre-wedding events. Having a big fat Indian wedding with a 25 person limit was extremely difficult; however, we tried our best to include everyone in different ways, which everyone appreciated.
4) What effect did a covid wedding have on your relationship, mental health, stress, work, etc.…?
Planning a wedding is hard and then throw in a pandemic to the mix and that makes it that much more difficult. With the ever-going restrictions and not releasing that stress by going to the gym (as those were also closed), it felt like never-ending issues. The pandemic helped me grow as a person in dealing with adversity and taking all the punches life has to throw.

5) How accommodating were your vendors? How to budget for potential cancellations? How has the industry been responding as a direct result to COVID-19?
All my vendors were easy to work with and extremely flexible as there were no issues with venue and date changes(up to a week before the events). Thankfully the deposits our guests had put down with the airline were refunded. I believe the industry has responded better than expected during the pandemic by pivoting so quickly and adapting to the change.

6) Why choose Banglez?
From the unique designs and stones, there was no other option. When I brought my bridal outfit in for the design consult, I was blown away by all the different options available. One aspect I felt important to me was to have my mom's outfit and jewelry match mine. Banglez was able to do more than I could've ever imagined with both our jewelry sets.
7) How did Banglez accommodate you during covid? How did they do? What did the jewelry do for your look?
The jewelry brought me out of my comfort zone, and I'm so happy I did this. Banglez was beyond accommodating, and their expertise was everything I needed. I presented a few ideas, and the team just took it to the next level, surpassing all my expectations.

8) How important is a bride's jewelry or to you personally?
To be honest, I hadn't thought jewelry was a significant aspect. That was until I wore the jewelry Hardip designed for me with my outfit. The jewelry brought the bridal outfit to life. I wouldn't change anything about the jewelry as it was beyond perfect.
9) How was the customer service at Banglez? Did Malinda and Hardip's experience make a difference in your decision-making?
The customer experience was perfection. It was seamless, from easy bookings for in-person appointments to the short lead time in picking up my jewelry. As Malinda and Hardip are industry experts, I relied on their suggestions immensely. Their advice and ideas to make my jewelry one-of-a-kind was an excellent touch as well.
10) Did you postpone your wedding? If so, why and if not, why?
We decided not to postpone our wedding. We knew we would miss a lot of family and traditions in doing so due to the pandemic. However, most importantly, I was still getting married to my best friend, and that's all that mattered.

11) What advice would you give to another bride?
Whether there's a pandemic or not, your wedding will have some bumps along the way. So take the hits as they come. Remember, at the end of the day, it's your day, so plan it how you want it.
We at Banglez truly admired Rav and Brandon's resilience in making the tough decision to move forward rather than postpone their wedding.
We hope that despite the involuntary turbulence our brides and their families faced during the pandemic, they still got to experience a rich and worthwhile day filled with love and laughter.
Because while many things were cancelled amid the covid-29 pandemic, love most certainly was not. Cheers!🥂

Photography by @Randyhansra
Video by @PixelEyeFilms
Makeup by @Evergoldbeauty