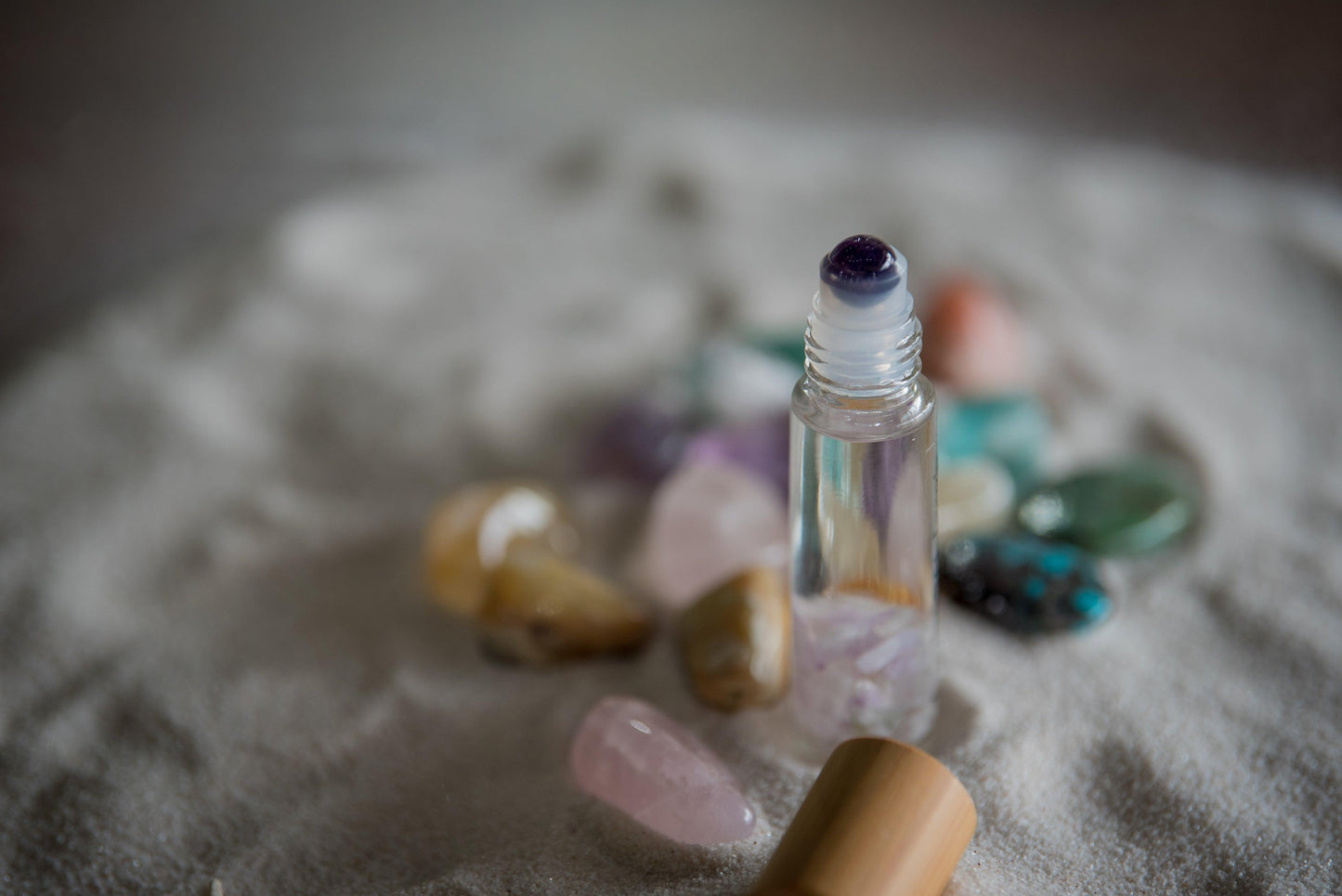 A Powerful Combination: Essential Oils and Crystals
A Powerful Combination: Essential Oils and Crystals
By Shae Invidiata
Follow me: @ShaeInvidiata I @Shae.And.Co
Essential oils are concentrated, highly potent natural chemical compounds found in the parts of many plants such as seeds, roots, flowers, fruit, or bark.  The unique chemical compounds found in the individual oils give each essential oil its unique characteristics, including scents and healing properties.  Pure oil is evident when you open the bottle as it gives off an unmistakable aroma that will captivate your senses.  Many oils claim to be pure, but one of the true tests is if you can ingest them internally. Pure doTERRA oils such as Frankincense, Lemon, or Lavender are known to be consumed in small doses for additional health benefits.
Proper methods of growing, harvesting, and distilling are all crucial to ensuring a pure product.  The only thing that should be in the bottle you receive is the essential oil itself, without fillers, synthetics, pesticides or added ingredients.  There are no industry standards for essential oils; therefore, doTERRA implemented its checks and balances to ensure they deliver a quality product in every bottle.  doTERRA has developed what is known as the CPTG Process putting its product through 54 rigorous tests before ever selling to the consumer.
To ensure the purity of their product, doTERRA has intentionally made transparency part of their process. To see the benefits for yourself, visit souretoyou.com and type in the digital ID that appears on the bottom of every doTERRA essential oil bottle.  The site will reveal the purity and potency report for that particular ID allowing you to know precisely what you are putting on or in your body. 
Clean Living with doTERRA
Along with health benefits, when you incorporate essential oils into your life, you can live a clean, chemical-free life in all areas.  You can use oils for household cleaning, cooking, drinking water enhancements, and personal hygiene such as skincare, deodorant, shampoo/conditioner, and toothpaste.  Essential oils also pair beautifully with jewelry and crystals to enhance their healing properties allowing you to keep the oils close to you through the day in a necklace or bracelet. 
Essential oils provide emotional support through mood-enhancing, calming, and healing properties.  May essential oils are linked to helping with emotional distress such as depression, anxiety, happiness, relaxation, focus, sleep, digestion and stimulation (see below for a guide).  For maximum benefit, it is important to incorporate essential oils as part of your support system for your entire way of living.  doTERRA essential oils are of exceptional quality, and experienced users will recognize the purity of scent and the healing effects immediately.  The highly developed CPTG process ensures that every bottle will deliver the carefully extracted properties from the plant.      
The Power of Essential Oils and Crystals
Jewelry and crystals are a way to help diffuse the oils to support you throughout your day.  Crystals carry energetic fields that help with healing; when paired with a high- quality essential oil, the power of each is enhanced.  Whether you are looking for support with mood enhancement, emotional stability, body stiffness, or specific ailments, together oils and crystals produce a synergetic reaction that will greatly benefit the user. 
Both necklaces and bracelets are equally effective in achieving an enhanced experience.  Wearing the jewelry allows you to carry the energy and properties close to you and feel the healing power throughout the day.  To boost results, refill the oil as needed.
To give the essential oils and crystals maximum power, set an intention before engaging in the practice.  Knowing your intention, big or small, will allow you to stay strong in pursuing and achieving that goal. It will also provide you with purpose as you navigate your day.  Wearing jewelry diffused with essential oils will act as a reminder of your intention and allow you to stay true to yourself.
To sharpen your focus and set up an effective routine for yourself, you need to have proper pillars and systems in place to support your mind and body.  Combining essential oils and crystals' healing properties will allow you to pause your busy life to enjoy the natural powers that this combination awards you.  I have many daily practices, and one of the most important is using my doTERRA essential oils as pillars in my morning and evening routines. These pure chemical-free oils allow me to create the mood I strive to cultivate and support the emotional response I need. 
Are you curious about which essential oils will best pair with your crystals?  Connect with me to review which oils will help you increase your energy, boost your immune, and calm your brain as you move through your day. 
Oils to Use Daily
Incorporate doTERRA essential oils that will support you throughout your day in the areas you need most.  Use this guide as a resource:
Destress and Focus: reduce brain fog while increasing focus and mental clarity with Adaptiv, Copaiba, Frankincense, Ylang-Ylang, Lavender, and Lemon Eucalyptus
Inner peace and Calming: feel zen with calming oils such as Vetiver, Peace blend, Passion blend, and Balance
Boost of Energy: energize your body with uplifting scents such as Lemon, Grapefruit, Bergamot, Peppermint, and Cheer blend
To Purchase Any Of These Oils Mentioned, Click Here 
I am deliberate with what I put into my body to elevate my ability to stay alert and be productive throughout my day, and I would love to help you do the same.  Please reach out to discover the life changing benefits of doTERRA essential oils.  
Stay healthy and stay strong.